Fifth Annual Tuckerman Ravine Expedition


We're planning the 5th Annual Tuckerman Ravine Expedition and we'd like you to be a part of it... The tentative dates are April 14 through 16, 2006... The definite dates will depend on how this year's snowfall on Mount Washington shapes up... We will pick a definite date 2 weeks prior to leaving (so we can make travel and lodging reservations) and then we'll keep our fingers crossed that the weather and avalanche conditions are favorable when the time comes... If avalanche conditions are bad both Saturday and Sunday we can always ski the local commercial areas both days (not as exciting but still nice)... Our "basecamp" will be the Royalty Inn in Gorham, NH with a tentative schedule of arriving on Friday, hiking/skiing Tucks on Saturday, and skiing Sunday River in Maine (a commercial resort with lifts) on Sunday...

The expedition does require a reasonable level of physical fitness... The hike is several miles long and ascends about 2500 vertical feet... Figure on your backpack, boots, and skis weighing at least 40 pounds... I will lead a training/shakedown hike for those of you in the Baltimore/Washington area... The training hike will be held at Bob's Hill (1000 vertical feet) in the Catoctin Mountains north of Frederick, MD... We'll ascend and descend Bob's Hill twice... If you can do that while carrying your full rig, you're ready for Tucks... The skiing at Tuckerman Ravine is not necessarily the hard part (the hike usually is)... While the snow conditions can be widely variable (natural snow), the vast terrain has something for almost everyone... If you want extreme, climb to the lip of the headwall where you'll find terrain seldom seen at a commercial resort... If you want something easy, only go a third of the way up the bowl where the slope is much more gradual and the traverses wide and obstacle free... assuming we pick "the right" weekend, we'll ski down to the bottom of the mountain on the Sherburne Ski Trail which I'd rate as a "blue square" although bare spots and natural snow can make it a little trickier...

I'll be happy to provide information, logistical help, and social coordination for the expedition but actual travel and lodging reservations will be up to you... I'll keep in touch with the Royalty Inn and Southwest Airlines and let you know when you need to get your reservations in but again, travel and lodging is up to you... And while we're on the subject of responsibility, hiking and skiing on Mount Washington can be a hazardous activity... People have been known to get injured and/or die there... while I'm happy to have you join my informal expedition I can take no responsibility for what happens to you on the mountain (or in the airplane or at the motel for that matter)... You're on your own !!!


If you're interested in joining the Fifth Annual Tuckerman Ravine Expedition send an e-mail to me at: allenREMOVECAPITALLETTERSblack@comcast.net and I'll keep you posted.


Here're a couple of good maps:

Topographical Map of Mount Washington and Vicinity
Map of Tuckerman Ravine Skiing Areas


Here're some good links with more information pertinent to the expedition:

Friends Of Tuckerman - this place has it all... buy a membership while you're there
Mount Washington Volunteer Ski Patrol - this is the place for the best official information
Mount Washington Observatory - this is the place for the best weather information
Time For Tuckerman - lots of pictures and a good description of a typical outing at the ravine
Tuckerman Brewing Company - this is what we get to drink at the end of the day
Royalty Inn - our "basecamp", love their indoor pool and hot tub, great rates too
Sunday River Ski Area - for "normal" skiing, one of the biggest and best in the northeast
Southwest Airlines - $79 round-trip from BWi TO mANCHESTER, nh


Here're some organizational e-mails that I wrote before and after the second and third expeditions... Together, I think they give a good picture of what the fourth expedition might be like:

E-mail About The Third Expedition (Before We Went - Letter 1)
E-mail About The Third Expedition (Before We Went - Letter 2)
E-mail About The Third Expedition (Before We Went - Letter 3)
E-mail About The Third Expedition (Before We Went - Letter 4)
E-mail About The Third Expedition (Before We Went - Letter 5)
E-mail About The Third Expedition (Before We Went - Letter 6)
E-mail About The Third Expedition (After We Did It !!!)

E-mail About The Second Expedition (Before We Went)
E-mail About The Second Expedition (After We Did It !!!)


On with the show !!!!!!

FOURTH EXPEDITION

Click here to see "all" the pictures from The Fourth Expedition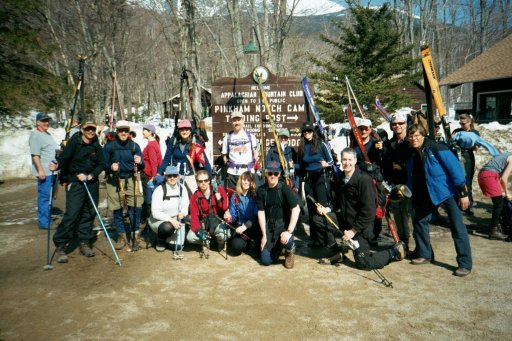 Fourth expedition, 9:00 AM on April 21, 2001... Let's get going !!!
(front row left-to-right) Joanne, Stuart, Kathi, Greg, Chuck
(back row left-to-right) Bob W., Bob S., Anne-Marie, John, Beth, Benita, Rich, Mark, Allen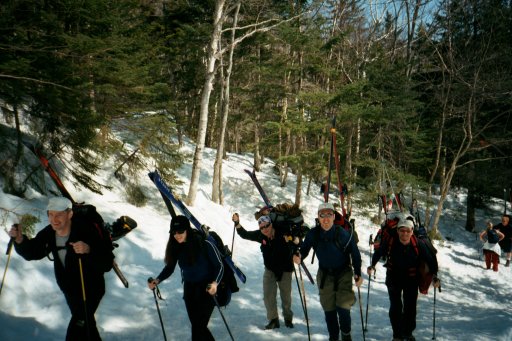 Happy hikers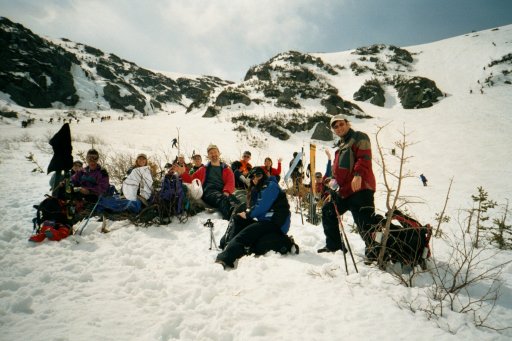 Advanced Base Camp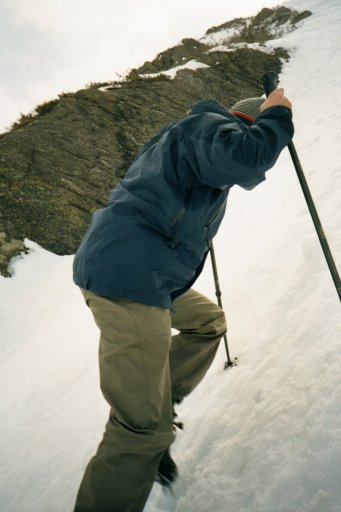 It's steep going up...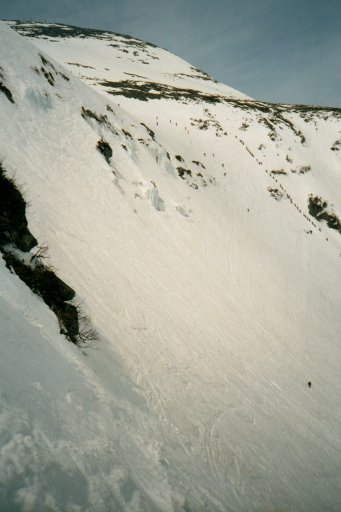 And steep going down !!!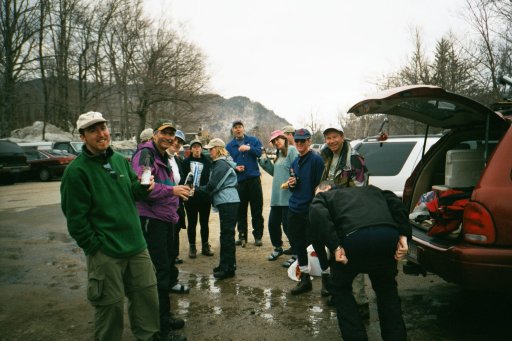 Celebration (Phase 1 - The Parking Lot)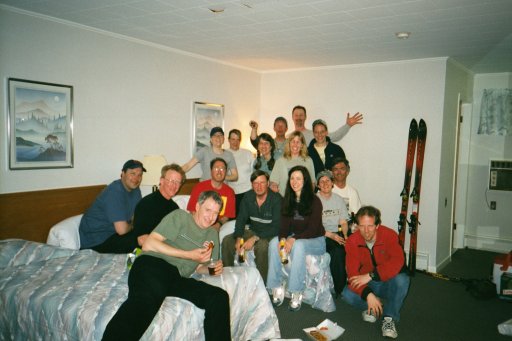 Celebration (Phase 2 - Royalty Inn Room 110)


THIRD EXPEDITION
Click here to see "all" the pictures from The Third Expedition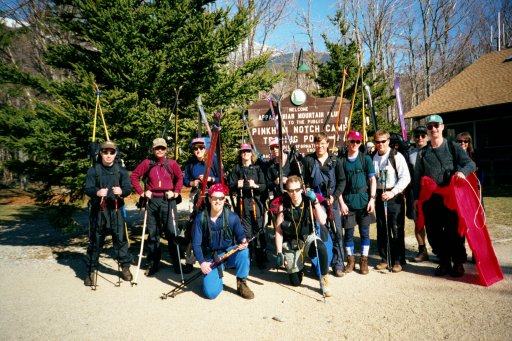 Third expedition, 9:00 AM on April 15, 2000... Let's get going !!!
(front row left-to-right) Bob S. and Stuart
(back row left-to-right) Brian S., Bob W., Anne-Marie, Laura, Mark, Allen, Greg, C.T., John V.
(further back on right) Tim and Kathi
(missing from picture, already on the trail) Brian V., Kim, and John ?
(missing from picture for reasons unknown) Carl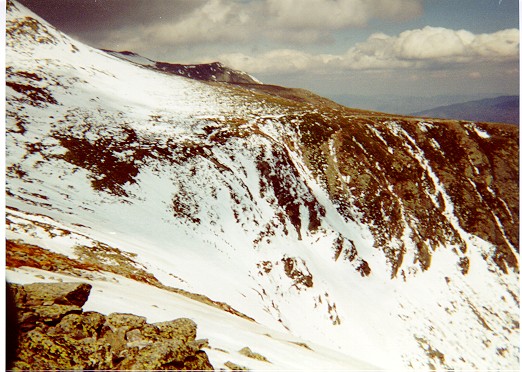 Awesome !!! ... We'll be skiing that shortly !!!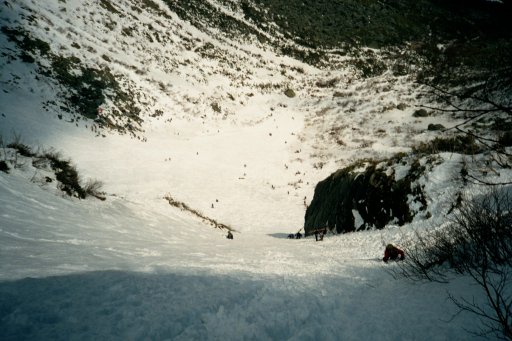 Looking down from way up high in "The Chute"


SECOND EXPEDITION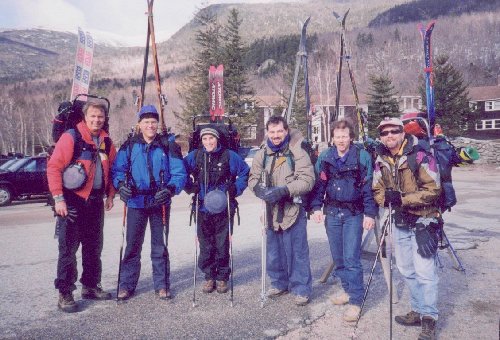 Second expedition, 8:45 AM on April 10, 1999... We're gonna do it !!!
(left-to-right) Brian, Allen, Kim, Paul, Stuart, and Mark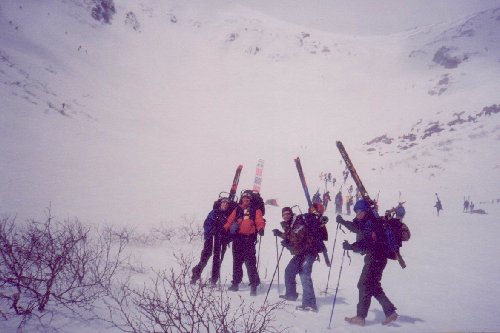 It's getting cold and windy... gimme shelter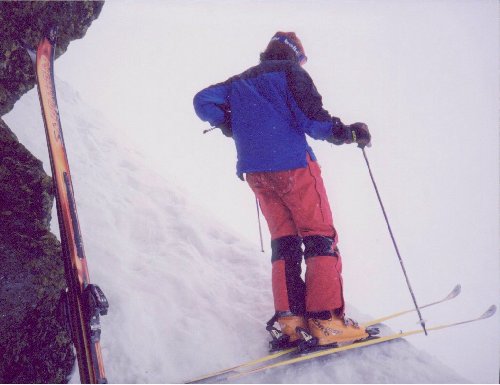 It's a long way down (and steep too) !!!


FIRST EXPEDITION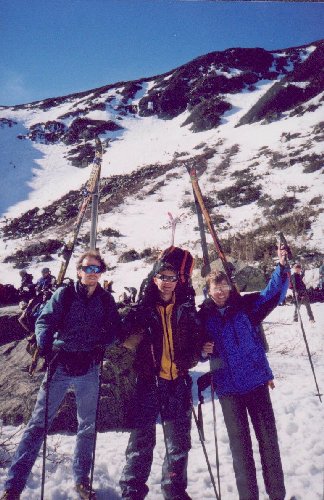 First expedition, 4:00 PM on April 12, 1998... We did it !!!
(left-to-right) Stuart, Mark, and Allen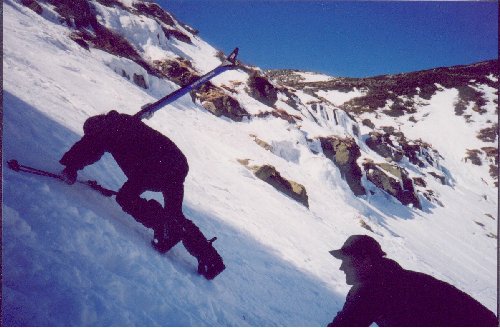 45+% slopes, ducking the blowing chunks of ice... the summit of Mt. Washington can be seen in the distance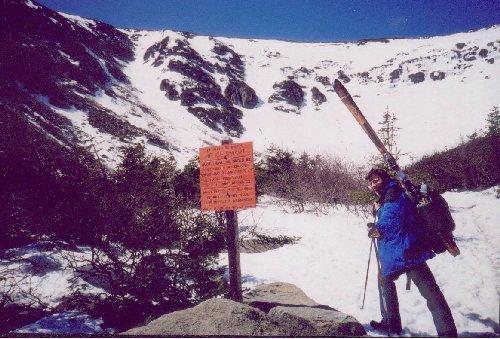 Tuckerman Ravine in the distance... warning sign in the foreground (it says "Be alert for avalanches and falling chunks of ice")